JASSI's all services are provided free of charge in order for low-income individuals and families to receive help from us. Your contribution is always welcome. If you would like to support JASSI and its programs, you may contribute by sending in a check or making a secure online donation. All of the contributions to JASSI are tax-deductible. JASSI has been designated as a 501(c)(3) not-for-profit organization by the Internal Revenue Service.
• AmazonSmile Program
You can support JASSI by shopping. The AmazonSmile program automatically donates 0.5% of the price of your eligible purchases to JASSI, when you shop at AmazonSmile! (AmazonSmile is the "same" Amazon.com with the same products, prices, and service.)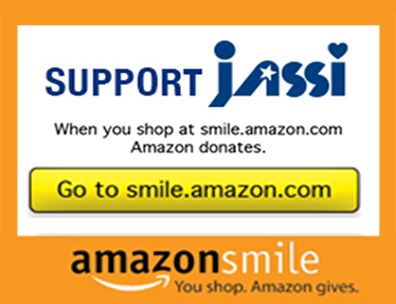 • Credit card / PayPal
PayPal is an online financial service that allows you to pay for items using a secure internet account. PayPal members can pay directly from checking accounts or credit cards by "sending money" to JASSI. Non-PayPal members can still pay with a credit card without signing up for PayPal.
• Checks (MAIL)
Please make your check payable to "JASSI", and send your check to:

JASSI
100 Gold Street, Lower Level
New York, NY 10038
---
Matching Gifts - Double your donation!
Many companies offer matching gift programs and will match any charitable contributions or volunteer hours made by their employees. Most of these programs match contributions dollar for dollar, and some will even triple the amount of your gift. A corporate matching gift is an easy way to double or even triple the impact of your personal gift to JASSI.
If your employer requires an Employer Identification Number (EIN), please use 13-3093059.
[ How do I make a matching gift? ]
1. Ask your HR department about your company's matching gift policy.
2. If your company participates, obtain a matching gift form and complete the employee portion. If your company processes matching gifts electronically, follow their instructions.
3. Mail the completed form along with your personal donation to:
JASSI
100 Gold Street, Lower Level
New York, NY 10038
---
JASSI Tomo no Kai and Supporters
We thank our generous donors— individuals, corporations, foundations, and government agencies—who share JASSI's vision.

Tomo no Kai (Friends of JASSI)
JASSI Tomo-no-Kai are the sponsor organizations and corporations supporting JASSI's operations and services throughout the year. We would like to give special thanks to the following Tomo no Kai members:
Tomo-no-Kai members
• City Care Family Practice, P.C.
• Eisai USA Foundation, Inc.
• ITO EN (North America) INC
• Japanese Chamber of Commerce and Industry of New York, Inc./ J.C.C. Fund
• KPMG LLP
• Maruzen International Co., Ltd.
• Mitsubishi UFJ Financial Group, Inc.
• Mitsui & Co. (U.S.A.), Inc./ The Mitsui U.S.A. Foundation
• NIPPON STEEL NORTH AMERICA, INC.
• Relo Redac, Inc.
• Sony Corporation of America
• Sumitomo Corporation of Americas
• T.I.C. Restaurant Group
Other Collaborating Organizations(February 21st, 2018 – January 31st, 2019)
• Able Real Estate USA, Inc.
• Asian American Foundation
• Asian American Impact Found
• Coalition for Asian American Children and Families
• Dainobu USA, Inc.
• Daiwa Capital Markets America, Inc.
• Deloitte Tax LLP-New York, Japanese Services Group
• Deloitte & Touche LLP-New York, Japanese Services Group
• DOI Inc.
• EAT RESTAURANT
• Eigoro Taka Memorial Foundation
• Goldman Sachs & Co.
• Hamilton-Madison House Inc.
• Hairppy, Ltd.
• International Medical Group, PC
• Japanese Medical Society of America Inc
• John & Miyoko Davey Foundation
• KPMG LLP
• Korean Community Services of Metropolitan New York, Inc.
• Kuwayama-Naito Charitable Foundation
• The Mark and Anla Cheng Kingdon Fund
• MinKwon Center for Community Action
• MUFG Bank
• New York City Mayor's Office of Immigrant Affairs
• New York City Department for the Aging
• New York City Department of Health and Mental Hygiene
• New York City Mayor's Office of Immigrant Affairs
• New York Japanese-American Lions Club
• New York Japanese Church, Inc.
• New York State Department of Health Cancer Services Program, Queens
• NewYork-Presbyterian/Queens
• Peter Westbrook Foundation
• Project Renewal
• Sachiyo Ito & Company
• SET SHOP
• Shabu-Tatsu Restaurant
• Shirakiku Foundation
• Sojitz Corporation of America
• Susan G. Komen Foundation
• Tomoko Trust
• Womankind
• Yoshida Development, Inc. (SUNRISE MART)